They Came for the Cows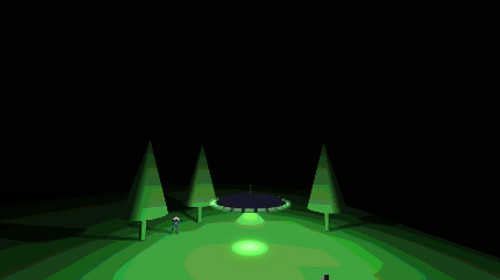 Nemesis
They Came for the Cows now has a nemesis for our UFO. A lone farmer, defending his herd in the dark with nothing but his wits and a 12 gauge shotgun.
Fortunately, his earthly weapon can't do any permanent damage to your ship, but it can disrupt your ability to capture livestock, and will prevent you from being able to turn invisible for a few seconds.
Invisibility
I almost forgot, you can also turn invisible! Invisibility only last a few seconds, but it can help you evade the farmer and reposition your ship.
The Goal
With these new features, They Came for the Cows has some actual gameplay, and requires a bit of strategic thinking. There is still only one level, and nothing in terms of stats or goals etc... Assume for now that the goal is to capture all the cows. I will be adding a title screen and a HUD to let players know they have gotten all the cows. Then I will work on adding new levels.
Next Steps
I may make the levels generate procedurally. With some new challenges being introduced slowly as you progress. I also want to make some more props, like a farm house, barn, roads, and maybe a railroad track. A dog will definitely be introduced in one of the next updates as well as some surprises that I will not announce ahead of time (you'll have to play to see them!)
Please let me know what you think so far. If you encounter any bugs, or have any questions, let me know here on the game's main page.
Get They Came for the Cows